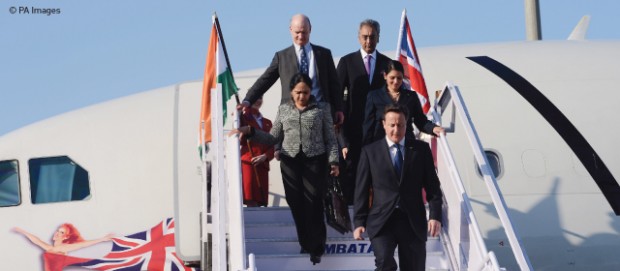 College principals were among a ground-breaking UK trade delegation to India, led by Prime Minister David Cameron.
West Nottinghamshire College's Asha Khemka OBE, New College Nottingham's Amarjit Basi and Norman Cave, from Birmingham's Bournville College, formed part of the biggest ever UK delegation.
It consisted of more than 100 companies — including Rolls-Royce, London Underground and the English Premier League.
As chair of AoC (Association of Colleges) India, Mrs Khemka was with Mr Cameron as he stepped off the plane in Mumbai on Monday, February 18.
"It is a huge honour to be involved in this important mission to India and to join such an esteemed delegation led by the Prime Minister," said Mrs Khemka, who signed a Memorandum of Understanding on behalf of AoC India with the Confederation of Indian Industries.
"India has an ambition to create 500 million skilled technicians by 2022, which would be a challenge for any country. UK Colleges can make a significant contribution to this agenda, which is what AoC in India has been set up to support.
"This visit sends another strong message that, as well as attracting Indian students to the UK, we have a commitment to be part of developing India's skills infrastructure."
Mr Basi was involved in the three-day visit, which started on Monday, February 18, having overseen the launch last month of New College Nottingham's International Lifestyles Academy (NILA), in New Delhi — the first vocational training centre of its kind in India.
We have to get out there, make the case for Britain and open doors for British business"
"The opportunity to be in the company of delegates drawn from world class organisations such as the CBI and The London Stock Exchange on this latest visit — and to share our vision and have it endorsed and supported by both UK and Indian Governments — is fantastic," said Mr Basi.
"It's great for Nottingham's economy and for UK PLC too."
Bournville College has also established itself in India, with a training and consultancy arm based in Kolkata.
"It is a privilege to be part of such a historic delegation and for the FE sector to be recognized for the part it plays in the development of closer business, cultural and economic ties with India," said Mr Cave.
Among the Prime Minister's announcements while in India was a promise to help Indian students get UK visas.
"As India grows, it needs a partner that can support its ambition – in infrastructure, in energy, in healthcare and more," said Mr Cameron.
"It wants its business to have unrivalled access to European and global markets and its students to get the best education in the world. Britain can do all these things and more.
"So, we have to get out there, make the case for Britain and open doors for British business."
AoC international director John Mountford, who also formed part of the delegation, said: "We are glad that the government wants to encourage genuine students to study in the UK at all levels of institution including FE colleges.
"We hope, however, that this move is instigated in a fair and even way that means parity across education and does not favour one sector over another."
Image caption: West Nottinghamshire College principal Asha Khemka OBE (centre left) arrives in Mumbai with Prime Minister David Cameron as part of a UK trade delegation to India. Also pictured, clockwise from top, are David Willetts MP, Lord Popat of Harrow and Priti Patel MP