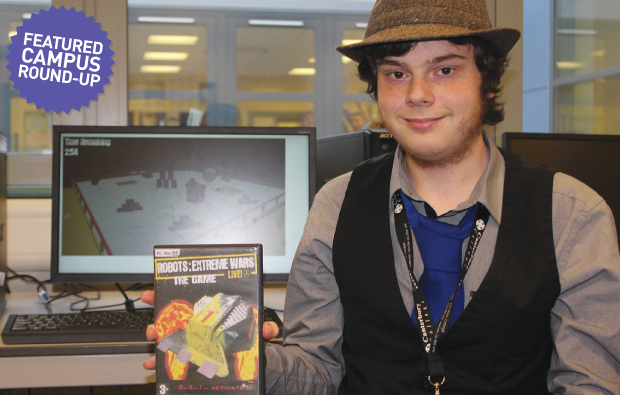 A media student who taught himself computer programming was "shocked" when technology giant Sony wanted to turn his game into a franchise.
Liam Cozens, 17, who studies BTec media production at Canterbury College, spent a year putting together his 3D downloadable game Robots: Extreme Wars Live.
His game was inspired by the TV show Robot Wars, which ended in 2004 and where contestants pitted homemade robots against each other in an arena full of hazards.
Robots: Extreme Wars Live allows players to relive the game this, battling robots of different shapes and sizes in a variety of arenas.
Liam said: "Funnily enough, I'm not much of a gamer but I did watch the Robot Wars TV show when it was on and played some of the spin-off games. I decided to see if I could make a better version myself and that was how I got started."
When the game was finished, Liam approached the website for Roaming Robots, a touring spin-off of the TV series.
The website producers had wanted to develop a game for years, and were impressed by Liam's version.
The game was launched for PCs and Macs in October and has proved popular, but Liam never imagined this was only the beginning.
Much to his surprise, Sony contacted him to say they were interested in developing the game for other platforms, meaning Liam could see his game being played on Sony's multi-million selling console, PlayStation or the PSP handheld device.
He said: "I was shocked when Sony got in touch. When I was making the game I thought it might make a minor impact and then
fade away."
Sony has also asked him to continue developing the game, creating extra levels which can then be downloaded by players.
The interest from Sony was surprising for Liam as he's never done anything like this before. In order to create the game, Liam first had to teach himself how to write computer programmes from scratch, using books and internet tutorials.
"Just learning the basics of programming took me two months," he said.
Following the success of his first game, he is now considering specialising in game development as part of his BTec.
Zoran Tesic, head of Canterbury College's media department, said: "This is excellent and we are very proud of Liam's achievement. He is currently studying a creative diploma and is thinking about specialising in games development next year.
"We are excited to work with such a gifted and motivated student and that we are able to help him progress in his education and push his games development skills and career even further."
Visit www.roamingrobots.co.uk to find out more about Robots: Extreme Wars Live.