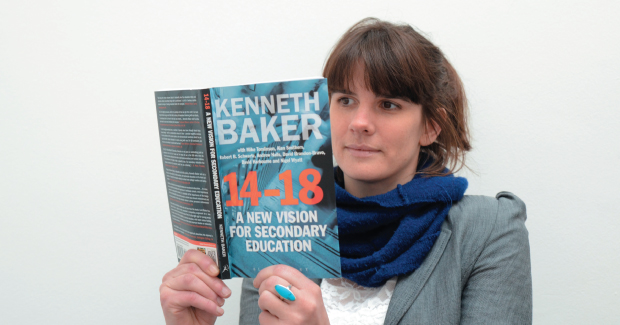 Former education secretary and father of the national curriculum Lord Baker has called for a back-to-basics revamp of England's education system.
The Conservative peer outlined his view that 14-year-olds were given the choice of four pathways at separate institutions in his new book 14 – 18: A New Vision for Secondary Education.
These are liberal arts for academic subjects, technical for specialisms such as engineering, sports and creative arts, or a career course where students would specialise in subjects such as plumbing or catering at FE colleges.
"I think there should be an assessment at 14 to see where your interests lie and the student, with input from parents and teachers, should say which direction they want to take," Lord Baker, founder of University Technical Colleges (UTCs), told FE Week.
He said more emphasis should be put into developing technical and career skills and the different colleges that would develop under his vision would work to get employers on-board to provide work placements and universities to inspire credibility.
In a year when the government has raised the school leaver age to 17 rising to 18 by 2015, and with FE colleges given the go ahead to recruit directly from schools from the age of 14, he said he felt the FE sector needed to "specialise more" and to stop trying to cater for "such a huge range".
"I think colleges need a basic reform — I'm a great fan of them but their strength is in selling courses — very few attempt to round an education," said Lord Baker, adding that the national curriculum should stop at 14 with pupils continuing to study core subjects such as English and maths until they were 18.
"One of the problems with FE colleges is they try to cater for such a huge range of activity. I think they should specialise more."
He also warned of the "dangers" of FE colleges recruiting pupils at 14.
"I think the danger is every secondary head in the country will recommend their most difficult students to FE colleges,"
he said.
"I think that's already happening because the policy of government is to squeeze vocational qualifications out of pre-16 education."
He also conceded the age of 14 could be seen as too young to specialise, but said that in Austria, where specialisms are followed at the age of 14, there was some of the "lowest youth unemployment in the world".
"This is merely the starting point. I hope I've started a great debate but it'll be up to someone else to pick up the baton and run with it," said former Home Secretary Lord Baker.
Maggie Galliers, Association of Colleges president, said Lord Baker's book was "useful" for a "push for a higher status technical route," but urged caution over its recommendations because it gave no mention of costs.
Lord Baker's book, 14-18: A New Vision for Secondary Education, is priced at £14.99 and was released on Thursday, January 24.