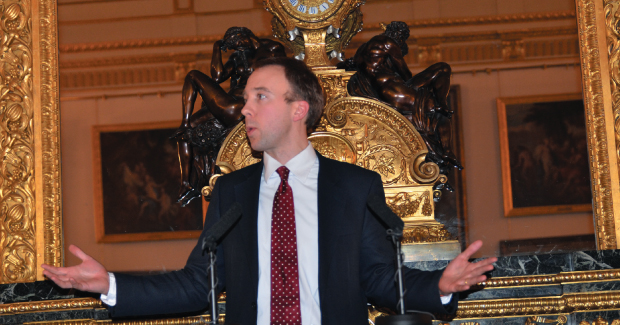 "Being a college governor is a serious job that requires enormous commitment," said FE minister Matthew Hancock at an event to thank college governors for their contribution to the sector.
The reception, organised by the government and presided over by Mr Hancock, was held at Lancaster House and attended by more than 130 college governors and chairs.
A short walk from Buckingham Palace, Lancaster House is filled with glorious chandeliers which hang from the gold-emblazoned ceilings.
An overwhelming and opulent venue that was built in 1825 for the Duke of York, it is now managed by the Foreign and Commonwealth Office.
It plays host to a number of government and royal receptions throughout the year and on Wednesday, January 16, it welcomed governors from across the UK.
Mr Hancock began his address by thanking guests for their commitment to FE colleges and reaffirmed the important role they played in the quality of provision offered.
He moved onto discuss the recent Ofsted chief inspector's report, published in November 2012, and the role governors should play in response to the chief inspector's criticisms of governance.
"The Ofsted report, which was difficult in someways, highlighted accountability, leadership and governance as vital to any college's success," said Mr Hancock.
"There is a direct link between weak governance and poor financial and educational health. It is almost always there as a root cause of poor performance.
I'm hosting this reception in recognition of your contribution to FE college governance"
"Of the 25 colleges judged as inadequate in the last four years, each one has been judged inadequate for leadership and management and in every college that improved they had improved this rating.
"The chief inspector recognised and identified the critical problems that he saw in governance in some colleges.
"Among these were effective accountability systems, inadequate self-assessment and failure to monitor performance or provide the right challenge to managers."
Mr Hancock then moved onto express that he was aware of the "impressive" work being undertaken across the sector, but also recognised the government also had a responsibility to offer support where needed.
"I want to be clear, I think there are areas of the sector that are taking a lead and are impressive, that are making powerful efforts to improve standards," he said.
"However, where there is insufficient evidence we need to ensure that there is a role for the government to play.
"This can involve a change in the leadership team, new governors and the tempering of provision.
"I know that achieving effective governance is not easy and that colleges are large and complex businesses that are striving to meet the aspirations of employers and learners alike as well as performing a vital role in the centre of your communities. We all have a good idea of what effective governance looks like.
"Being a college governor is a serious job that requires enormous commitment. And so I think that it is timely for the government to consider how better to support governors.
"It is your responsibility and your duty to ensure that learning is improved all around. And it is you who day-in day-out, month-in month-out, ensure that leadership is effective and strong.
"Effective leadership and governance is essential in ensuring that further education colleges continue to improve."
Ending his address to governors, Mr Hancock made a final pledge of support to governors and reaffirmed his confidence in them.
"I am confident that in your hands we can raise the bar in further education," he said.
"There is a huge amount of work to do to make sure that we get every college performing, to enable us support everyone in the country to reach their best.
"As Minister, I will challenge you, yes. But I will also be at your side, so that we can ensure that we do this the best we possibly can."
Following his address the minister also fielded several questions from the audience.
The minister was asked for his views on the possibility of a future merger of the Education Funding Agency (EFA) and the Skills Funding Agency (SFA).
Mr Hancock said: "I don't see any likelihood of the EFA and SFA combining. I am extremely skeptical of changes within structures of governments.
"Given the amount of changes made to the funding mechanism in recent years, I understand that's generally welcomed. If anyone wants me to go into battle to recreate the Learning and Skills Council, then let me know."
College governors also asked for clarification from the minster on the role of Local Enterprise Partnerships (LEPs).
"LEPs should be there to draw through the entitlements that people already have," said Mr Hancock.
"They should be there to encourage companies to get involved with training, to co-ordinate locally and to draw through the skills provision to old and new providers rather than giving a pot of money to LEPs like the old TECs [Training and Enterprise Councils] did."
Mr Hancock finally fielded a question relating to risk-taking and innovation within the sector.
The minister explained that he was in favour of colleges taking risk in order to improve quality and standards.
"The thrust of policy is to develop a diverse, innovative and dynamic sector with business aptitude," he said.
"Where there is innovation we should celebrate and support. Of course, where there is taxpayers' money we need controls. However, I'm in favour with the system of more innovation, more risk-taking. You can hold me to this.
"When someone tries something new to improve and it doesn't work and it was a good idea at the time, then you won't find me criticizing. We have to innovate."