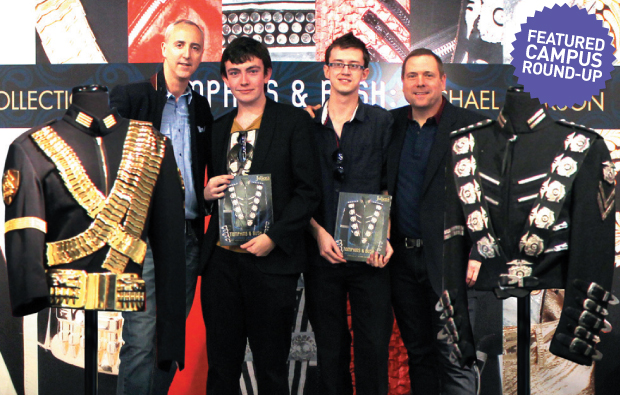 A savvy student landed a "once-in-a-lifetime opportunity" managing the king of pop's costumes when he impressed with his Michael Jackson knowledge.
Shane McCusker, a media student at Barking & Dagenham College, got to be in charge of handling costumes during the London stop of the Michael Jackson exhibition world tour before jetting off to LA to witness Jackson's costumes going under the hammer, one fetching $270,000.
The plucky 18-year-old clinched his dream job after bagging an interview with Michael Bush, Jackson's long-time designer, at the Irish stop of the tour.
When he corrected Bush on a fact, the designer said he "wanted him to be a part of the tour because he knew so much."
Fellow media student Kristian Baycroft was invited to help Shane and the pair were insured for up to £10m to handle Jackson's world-famous and dazzling outfits at Westfield Stratford City.
"I've been a huge Michael Jackson fan since I was five years-old and now I'm an even bigger fan," said Shane who also runs film-making enterprise Wider Horizon with Kristian.
"We met some of Michael Jackson's biggest fans. The strangest moment was when a mad Romanian started licking one of Michael Jackson's jackets from the Bad tour (jacket pictured with silver V detail). I had to approach him and say "excuse me, can you stop licking that jacket?" Shane joked.
"There was so much pressure on us though as when handling the costumes it was our responsibility. If something got broken it was on our head," he said.
When Shane and Kristian were flown out to the world-famous Julien's Auctions rooms in Beverly Hills they saw members of Jackson's family and representatives of celebrities such as Lady Gaga bidding for the superstar's clothes. She bought 55 items including a jacket for £148,418.
Shane was also invited to London Fashion Week Catwalk Show where he bagged two front-row seats and mingled with the likes of Philip Treacy, milliner to the stars, as well as Lady Gaga.
Shane said: "Philip Treacy was really nice and as he's Irish and I'm half Irish we had lots to talk about. He wasn't arrogant at all and he was one of the first customers of our business venture."
The pair's entrepreneurial nous led him and Kristian to set up a photo booth offering fans a chance to pose for a souvenir photo alongside one of Jackson's iconic jackets.
They built a website overnight to host the images for customers to download, and as a result of their business acumen, have thousands of photos and hours of footage from the numerous exhibitions.
They also earned enough to fund their next project, a drama series proposal they are working on.
He said the experience taught him how to deal with big businesses who didn't take him seriously due to his age.
"This taught me how to stand on my own two feet and not be belittled by anyone. At first some people were telling us how we would do things but I learned how to answer back so they didn't walk all over us," he said.