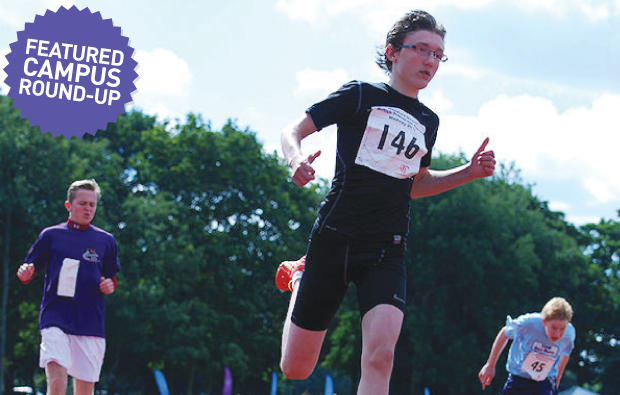 A teenager is set to compete in the World Transplant Games after a rare genetic disorder sparked a life-saving liver transplant operation.
Adam Wall, 17, from Broadstairs, in Kent, is a sports student at Canterbury College who has been selected to represent Great Britain and Northern Ireland in Durban, South Africa, in July.
The keen sportsman is now urging others to sign up as organ donors after he survived Alagille Syndrome as a result of a six-hour transplant operation when he was just two-and-a-half years old. The life-saving procedure was able to go ahead only because an 18-year-old signed up to the organ donors' list. The young man died in a car crash but his actions ensured Adam's life was saved.
"Thanks to my donor I've been able to live a perfectly healthy life," said Adam who has done athletics training twice a week at the Thanet Roadrunners sports club for the past five years.
"I had lumps all over my body and had turned yellow but my mum said the operation was a complete success.
"My entire liver was removed and a third of a liver was put into my body and then the rest of it grew back as the liver is the only organ that regenerates itself."
Since recovering, he has gone on to win medals in the 2011 World Transplant Games – gold in the high jump with a record breaking (for his age) leap of 1.25 metres, and bronze in the 100m sprint and long jump.
Adam will now take part in the 100m, 200m and high jump if he can raise £4,000 to pay for flights and registration.
Adam's college tutors have put him in touch with the Mary Edmondson Trust who donated £500 towards the £4,000 goal. Thanet Roadrunners sports club have also given £500 but he is still seeking sponsorship.
Adam said he thought the Transplant Games were a "great idea".
"I have had the chance to meet others like me and it's really built my confidence," he said.
The South African Games hold a special significance for the student.
"The opening ceremony will be on the anniversary of my transplant so that will be a highlight for me," he said.
"I'm looking forward to competing but the most important thing is letting people know that there is a shortage of organ donors and that they can help."
Next year will be the first time he has competed in the 18 to 29 age category. He said: "I hope I can live up to past successes but it will be a lot harder. If
I can top my personal bests I'll come home happy."
His tutor, Jemma Cullen, said: "Adam has done amazingly well to be selected to represent Great Britain and Ireland in the World Transplant Games. We are very proud of his achievements and enthusiastic to help him raise the funds he needs."
To donate to Adam online, go to uk.virginmoneygiving.com/adamwall2