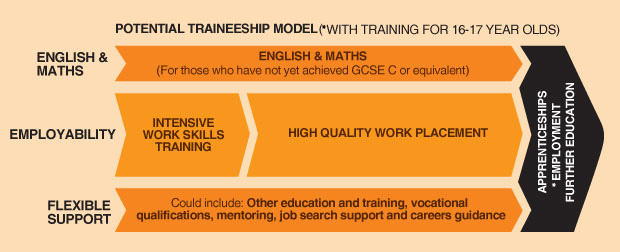 Plans for a new training scheme to equip young people with "the confidence, skills and experience needed to find work" has been announced.
FE minister Matthew Hancock has revealed a potential traineeship model, which could be in place by September 2013, and would see 16 to 24-year-olds not in education or struggling to find work complete "flexible and tailor-made" work preparation sessions, a high-quality work placement and help if they have not achieved a GCSE grade C in English and maths.
It was in June 2012, at the CBI Jobs Summit, that the government first referred to plans to pilot traineeships for "the teenagers who aren't ready for an apprenticeship". The Deputy Prime Minister, Nick Clegg, said then that "more detail will be coming soon".
Mr Hancock is now urging employers and training providers to help shape the initiative's progression by giving their opinions on the plans.
We are introducing traineeships to help young people with the skills they need to get a job, and hold down a job.
More than 700 people tuned into an FE Week ministerial webinar with Mr Hancock on Thursday, with participants encouraged to pose questions and hear the minister's views on the plan for traineeships.
John Evans, vice-principal at Swindon College, asked: "What is the difference between a traineeship and the already launched 16-19 study programmes as the reported models are exactly the same. This will further confuse the current offer to young people?"
Mr Hancock said: "The traineeship is aimed at 16 to 24-year-olds, not just 16 to 19-year-olds. Also it is an option within a study programme and is particularly aimed at those who don't have strong English and maths."
The discussion document about traineeships asks 12 questions about what a traineeship programme for 16 to 18-year-olds on study programmes, and the young unemployed (19 to 24-year-olds), should look like.
Mr Hancock said: "We are introducing traineeships to help young people with the skills they need to get a job, and hold down a job.
"That's vital for our economy to compete in the global race. And it's a question of fairness. Traineeships will give young people the helping hand and experience they need to compete for apprenticeships and good jobs."
The Department for Education (DfE) devised an outline for traineeships, expected to last around six months, after a CBI annual education and skills survey showed that 61 per cent of employers thought many young people lacked "work-related skills and attitudes which they needed to sustain employment".
The DfE said in the third quarter of 2012 there were 206,000 16 to 18-year-olds and 821,000 19 to 24-year-olds not in education, employment or training (NEET) and evidence showed these young people are more likely than their peers to suffer unemployment, low pay, poor health and depression.
Professor Alison Wolf, who wrote a report for the government on the subject, said: "In my Review I argued that the government needed to address this issue as a matter of urgency, and I am delighted to see that they are indeed doing so."
Graham Hoyle, chief executive of the Association of Employment and Learning Providers, said: "The development of traineeships represents a hugely significant step forward in ensuring young people currently without a job or training opportunity are better equipped to find either an apprenticeship or other type of worthwhile employment."
Martin Doel, chief executive of the Association of Colleges, said: "We have been arguing for some time for a pre-apprenticeship 'offer' to young people, a mixture of training and work experience that makes them attractive to employers and competitive for apprenticeships or for other jobs with training. We therefore welcome this consultation and the thinking that underlies the questions that it poses."
The government said its aim was to make traineeships the "preferred route" for those aspiring to apprenticeships who needed additional training.
Intensive traineeships were also being proposed for those with no work experience and very few qualifications.
Traineeships for 16 to 19-year-olds are proposed to be delivered as part of study programmes and for 19 to 24-year-olds training providers will be able to make use of the Adult Skills Budget.
You can send your views to traineeships.discussion@education.gsi.gov.uk" by February 8, 2013.
————————————————————————————————————–
Editorial : Time for traineeships
The sector, myself included, has broadly welcomed the plans to introduce a scheme to support young people into work and apprenticeships.
This is not surprising given the raising of the participation age to 18 by 2015, and current high levels of youth unemployment.
However, why has it taken 197 days since the government first mentioned plans for traineeships, before publishing this 'discussion document'?
It is important that lessons are learned from past schemes (like entry to employment) and current ones (such as access to apprenticeships).
Typically, it's the lack of an employer that's the problem.
So in the short discussion and implementation time left, it's critical employers not only help devise the programme, but also take advantage of it.
Nick Linford, editor