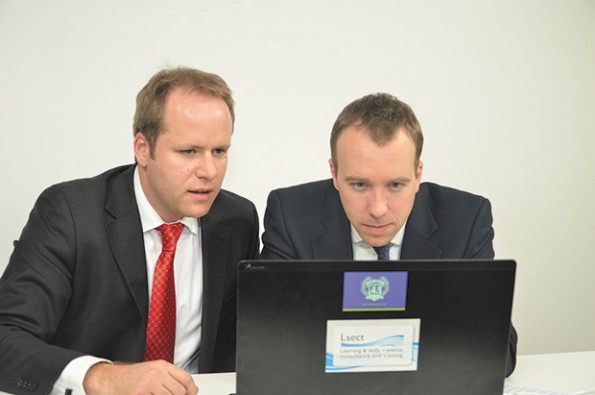 Further education Minister Matthew Hancock (above right) took part in his first webinar to launch a government discussion paper on traineeships.
Broadcasting live from the Department for Education and in partnership with FE Week, the minister spoke to an online audience of around 750 on Thursday, January 10.
The 30-minute webinar was an opportunity for the minister, joined by FE Week editor Nick Linford (above left), to introduce the discussion paper and face a sector grilling on the issue of traineeships.
Crucially, I think traineeships will only work if there is buy-in from employers"
The minister began by saying: "The consultation document, launched today, poses a series of questions and is intended to be very discursive. We want to hear what you have to say. Lots of people think that there is a policy gap here and that there is a potential offer that will be valued and needed.
"Crucially, I think traineeships will only work if there is buy-in from employers and that we also take into account a lot of the excellent work that takes place in the sector already. Also, I am very keen to ensure that we add too and support the work that already happens in the sector rather than get in its way with some national intervention.
"I also want to be very clear about the need within traineeships for English, maths, work preparation and work experience. But I also want be very flexible around everything else, to ensure that on the ground it can be provided in the way that best suits people locally."
During the webinar the minister was asked about how he was planning to encourage more employers to offer work experience and apprenticeships. Mr Hancock referred to the increase in the number of apprenticeships already and acknowledged that the government needed to do more to allow benefit rules to meet the needs of the sector.
"We are finding that apprenticeships are broadening, in terms of the number of employers offering them. Typically employers find apprentices a much more positive experience than expected, and this positive experience is vital.
"The work experience programme, which is a Department for Work and Pensions [DWP] programme, is very much within this space. From being launched a year ago, this has gone on to be really successful and arguably one of the most effective and value for money employment programmes that a government has ever run.
"One of the things we haven't done enough on as a government is to work on the linking of the skills system with the DWP benefits system. The rigidity of benefit rules has not fitted well enough with the skills system. Bringing these two together is extremely important and traineeships are a step in that direction."
The minister also emphasised the responsibility of schools and the government in ensuring that young people were aware of the opportunity to do a traineeship, and that this would be achieved through quality independent information, advice and guidance.
"Quality information, advice and guidance is essential. Part of the new duty on schools is to provide independent and impartial careers advice ­— and implementing that is an important part of my job. Just before Christmas we extended this statutory requirement to also include sixth form students," he said.
"The National Apprenticeships Service will have a big role to play in ensuring that people know the availability of apprenticeships. The assumption will be that people move on from traineeships into apprenticeships. Therefore all the communication that we do around apprenticeships is also valid for traineeships."
Several participants submitted questions about whether the government would be looking at providing financial support for students doing traineeships. The minister said: "This is a very important question, but this paper actively doesn't answer it. There is more work to be done in this area and we know that this is obviously critical.
"I recognise the importance of the question and I'm being open today in the fact that we are asking for suggestions in how this ought to work, within obviously tight financial constraints. Financial support is very important and is something we are doing a lot of work on in government at the moment."
The minister also fielded a question about the duration of traineeships and explained that he was "instinctively thinking around a six-month period," but reaffirmed he was keen to hear the sector's views.
FE Week received many questions in advance and following the webinar. Unfortunately, the minister was not able to answer all of these questions during the webinar. FE Week will be forwarding these to the minister.
To have your say on traineeships, email traineeships.discussion@education.gsi.gov.uk by February 8.