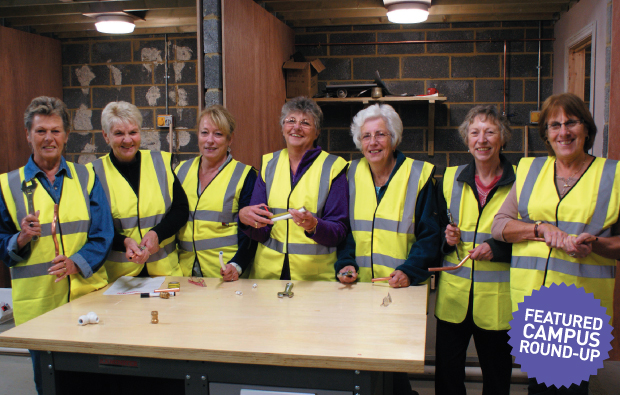 A group of savvy widows have mastered power drilling and car mechanics at college after realising they couldn't use their husbands' toolkits.
Social group The Jolly Dollies, founded by Yvonne Vann, has been trying out DIY  — plaster boarding and putting up shelves — during taster courses at Weston College's Construction and Engineering Centre of Excellence (CECE) in Somerset.
Former legal secretary Janet McArdle decided she and her friends needed a helping hand on the DIY front.
The 67-year-old from Weston, said: "Most of us are widows and we've all got these tools but don't know how to use them properly. I used to help my husband but more in terms of holding up a shelf while he drilled — I wish I'd taken a bit more notice now.
"I tried putting up a bird box at home but got confused which size of screw to use."
Lecturer Matt Postins, who is also the regional chairman of the Guild of Bricklayers, said: "It's been great to teach them the delights of cordless drilling.
"It's not about complicated DIY but having a go at basic tasks. Hopefully, after trying these skills the ladies can save the money they may have had to pay to a builder."
CECE construction service leader, Steve Caldwell, said the taster days meant people could have a go at a practical session and if they enjoyed the activity then they could look at other courses at Weston College.
"Janet's request was unique so we listened to what the ladies hoped to gain from the session and ran a tailor-made afternoon", he said.
Since their initial session the women have also taken on car mechanics.
Yvonne started the Jolly Dollies after losing her husband Victor to Multiple System Atrophy (MSA), a rare neurological disease.
"Two years after he died I met up with a woman called June Owens who was in a very similar situation to me," said the 65-year-old.
"We started to go out occasionally and one night we realised there must be so many women out there in the same social situation as us."
That was the start of the Jolly Dollies and two years later there are 15 who meet up for dinners, lunches, quizzes as well as going to the theatre and dancing.
"I can't tell you how difficult it is for women to pick up their social lives after the loss of their partner in life," said Yvonne.
"What the Jolly Dollies have is a unique understanding of how each other feels and what we have all gone through.
"The one–day courses at Weston College have been good fun. For some widows these courses will be really useful because a lot of husbands did all the house DIY and simple jobs on the car, now we can do it for ourselves."
She now wants to expand the Jolly Dollies concept nationally and even internationally.