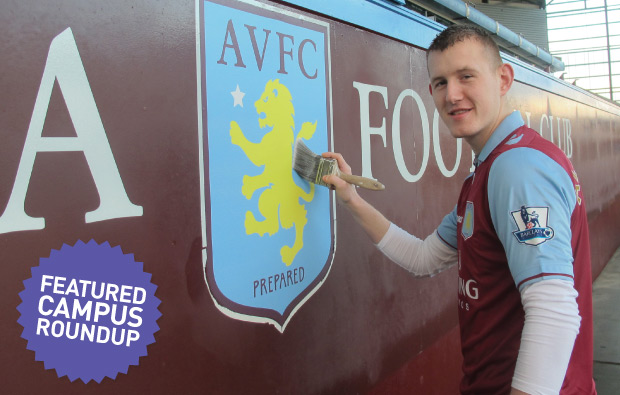 Lifelong Aston Villa fan Jamie Irvin is constantly dipping into his club's colours.
The 20-year-old, Walsall College student has just finished a painting and decorating apprenticeship at the Premier League club's football ground and is now a permanent member of staff.
"It's a dream come true," he said. "At the beginning I was taking pictures all the time and sending them to my friends, saying 'guess where I work?'
"Once I was painting the boot room and the players walked in and said hello. I was gobsmacked.
"It's nice to be proud of my job; it's one of the first things that I tell people. I feel privileged to be here."
But it hasn't all been fun and games. His first job as an apprentice was to paint a yellow strip on more than 4,700 of the stadium's steps.
He started his training a year ago. "After three years at college, I felt ready to start working but there was still so much that I needed to learn to improve my long-term career prospects, so an apprenticeship seemed like the ideal route," he said.
A friend persuaded him to join him at college to study decorating but pulled out at the last minute.
"The joke's on him, because he's a bigger Villa fan than me," Jamie said. "He couldn't believe it when I got the job."
Jamie, who can see Villa's stadium from his home, said he didn't get on too well at school. "I got distracted too easily and got bored being stuck in a classroom. But the course at college was really good for me because it was 80 per cent practical and 20 per cent theory."
Tom Fantini, head of facilities at the football ground, said: "We took Jamie on at a grass roots level and built on the skills that he'd developed at college. We were impressed with his work ethic and commitment to learn from his peers."
Jamie hopes to set up his own business at some time. "Doing an apprenticeship has helped me to get my dream job quicker than I thought was possible. I love coming to work every day, and at Aston Villa I'll also have the chance to learn other trades and continue to develop my career."
He reckons that one of the best perks of his job — other than two free season tickets — is working on match days. "My dad and mum come to the games and they always take the mick — is that what you call work?"