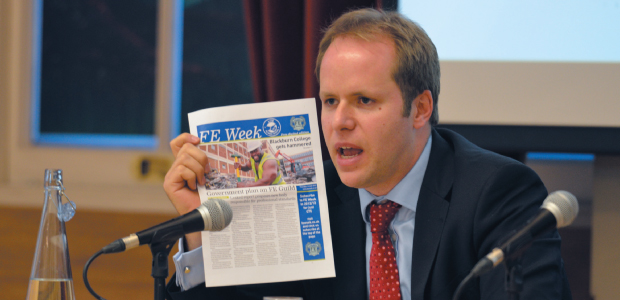 What do journalists look for? How do we make further education stories hit the headlines?
These were two questions that colleges, government agencies and PR professionals from across country wanted answers to when they descended on King's College, London, late last month.
What Journalists Want, organised by The Last Word,  is a one-day conference that provides press, communications and marketing professionals in the sector with an overview of the kind of stories journalists are interested in – and how to approach them.
Sessions were led by Lucy Sherriff, education correspondent for the Huffington Post,  Jeevan Vasagar, former education editor at The Guardian, and BBC producer Kirsty Pope.
FE Week editor Nick Linford talked about building relationships with specialist journalists. He provided delegates with an insight into the schedules of FE Week and shared examples of the types of stories that his publication would and would not publish.
"At FE Week we are looking for stories that our readers are going to want to read. That is not unique; it's the same at any newspaper. I would argue that this is one of the first things to remember when thinking of sending a story anywhere. Who is their intended audience?"
If you have a story, pick up the phone"
"There are four areas to the newspaper that you can contribute towards: news, profiles, expert articles and campus roundup.
"Campus roundup is an opportunity for organisations to showcase good news from the sector. This can be anything from a royal visit, a student receiving an award or commendation for their work, or the opening of a new building.
"What is essential with any campus roundup though is that we receive a relevant high resolution photograph. If the Queen pays you a visit, we want a front-facing picture to accompany the story. Not a picture of Her Majesty's back."
Linford's final message to delegates was simple — "if you have a story, pick up the phone."
"Too often journalists find out about a story too late, at a time when it is no longer newsworthy to publish. Of course not every story is time sensitive. But to send through a press release regarding an award that was received over a month ago and expect to get the interest from the journalist is not realistic.
"As soon as you have or think you have a story, get in touch."
The Last Word was established over seven years ago by journalists Janet Murray and Louise Tickle  and specialises in training events and masterclasses for communications professionals in the education and not-for-profit sectors.
Download our guide to the perfect Campus Roundup article here: Campus-roundup-guide-A4.pdf (1mb)