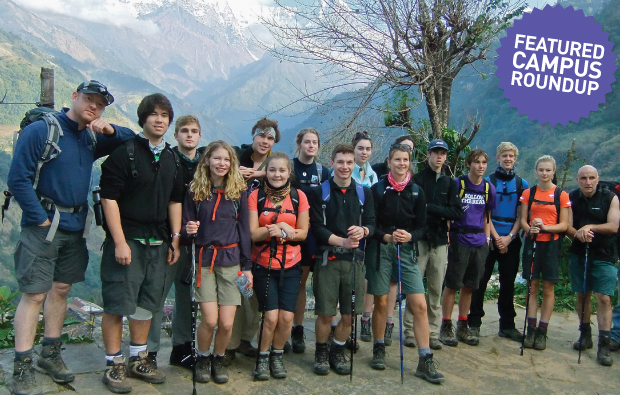 Trekking in the Himalayas, riding on elephants and visiting Buddhist temples were all part of an adventure of a lifetime for a group of Hampshire students.
Alton College students spent a year working and fundraising to save £2,000 each for a 10-day trip to Nepal in October.
Among the 31 students who flew to Asia was Daisy Van der Lande, 17, from Selborne.
"I had such an amazing time," she said. "Going to Nepal taught me that it's really important to get stuck in and learn about another culture. There are so many different ways of life out there, and sometimes it takes being somewhere completely different that takes you out of your comfort zone to make you stop and appreciate what's around you. I never did that before at home."
The adventure has given Daisy a thirst for travel and after finishing her A-levels she plans to take a gap year to explore South America, before studying English literature and history of art at university.
The trip was organised with travel company True Adventure, but the students planned what they were going to do, and booked transport and accommodation.
Daisy's favourite part of the trip was trekking in the Himalayas. "The scenery is incredible — television doesn't do it justice at all," she said. "You feel so small in comparison to these mountains, they're ridiculously big, there's no feeling like it. You'll be looking at one that's the other side of the valley and you'll be thinking, oh, that's a tiny little hill, but actually it's 5km above you. It's quite humbling.
"We stayed in tea houses, which are like B&Bs, just four walls and a tin roof. They're run by families, and we got to know the owners and played with the children. It was very one-to-one and personal, which was lovely."
One of the hardest parts of the trek said Daisy was when two students became very ill with food poisoning.
"That hit us on the evening of the second day of the trek," she said.
"The next day we had a really hard day, and half way through the whole team got together and worked out how we could get these people up the mountain. We carried their bags, and each of them had someone stood behind pushing them up, and another person in front pulling them forward. We got them to the top and it was freezing. That evening over dinner we had a heart to heart and everyone just broke down."
"Then we had to decide whether to go on to Poon Hill. The leaders had decided the two people were too ill to go on, so we had to decide whether to carry on without them, or cut the trek short and miss the sunset on Poon Hill, which apparently is one of the most amazing sun sets you can ever see in the world.
"It was possibly the hardest decision that any of us had ever had to make, because you have to decide whether you want to stay as a team, or see this incredible sight. We decided to go down. It was definitely the right decision."
Art and design lecturer Ivan Bicknell joined the students on the trip. "Out of everything I do at the college, it's the thing where I see the learning taking place more than anywhere else," he said.
"The life skills they learn goes way beyond what you can ever do in a classroom. It's fantastic; they grow so much and change a lot. It teaches them about taking on responsibility, leadership, working as a team and supporting each other.
"It gives them a lot of confidence. They will reap the rewards."