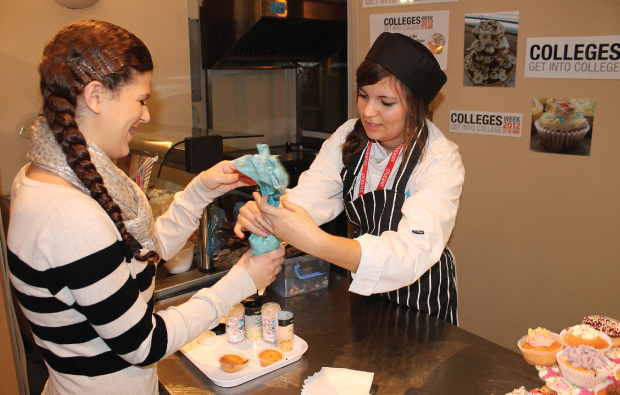 Cupcakes were at the centre of Colleges Week celebrations at Richmond upon Thames College.
Visitors who made it to the catering department during an open evening were encouraged to roll up their sleeves and practise their icing and decorating skills — with the promise of a tasty treat at the end. Pre-decorated cupcakes were sold to raise money for Children in Need.
"It was great fun learning how to pipe the icing, and I was really pleased with the result as it looked and tasted delicious," said Georgia Petrou, 16, from Sunbury Manor School.
Richmond's catering department is home to Merits, a training restaurant where students gain the skills to become the chefs and food service staff of the future. Helping at the Colleges Week event were students Laura Bamford, Rosie Buckle, Ben Harris, Marion Kamau Njoki and Scott Tuckwell.
"It was fun being the teacher instead of the student," Laura said. "And the cupcakes decorated by the guests looked brilliant. They were really enthusiastic and it was nice to show off some of the skills that we've been taught."