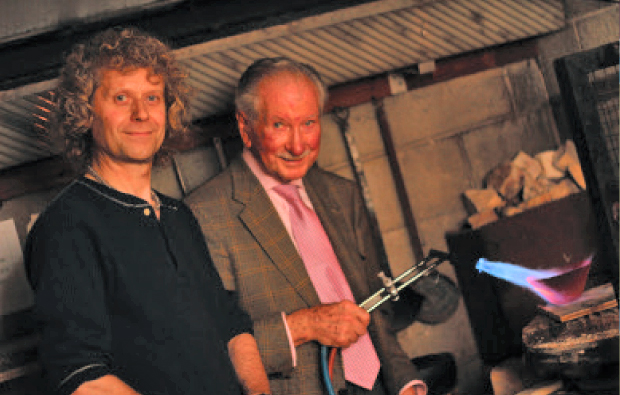 The lounge of 94-year-old student Arthur Holder is filled with more than 200 handcrafted pieces of silverware.
There are vases, jugs, and bowls — and all made by the grandfather-of-two at Chesterfield College, where he has been studying on a silversmith course for nearly four decades.
"I love to be able to create," said former estate agent and surveyor Arthur.
"When I was in business, I had up in the attic two and half tonnes of paper in files.
"That's one of the reasons I started, I'd been working all those years, but what had I got to show for it? Nearly three tonnes of paper.
"Now I've been working for 38 years on silver and I've got more than 200 beautiful items.
"It's fun and very fulfilling. I haven't missed a year and I won't ever stop, I'll be going on until I'm 100."
Widower Arthur said he'd always been interested in silver and enrolled at the college in 1971 after a neighbour told him about the course. And this month he was presented with a lifelong learning award at the college's annual Aspire Awards.
"I felt like a fish out of water at the ceremony, standing there with all those young people, but I felt really proud when I got the award," said Arthur, who has seen the price of silver go up from £3 to £30 per ounce since he has been at the college.
"It was very much appreciated, I've made a stand for it and it's on display in my lounge."
As well as his house being packed full of items he's made and collected, Arthur has built a workshop at home so he can work on pieces all week. But he said he still attended the college because it had better equipment and he loved the environment.
"I'm always thinking about what I'm going to make next," said Arthur, who has two grown-up children in Chris, 54, and Rosalie, 58, who has also recently taken up silversmithing.
"It's a fantastic hobby. It enables you to use your hands and your brain at the same time. It's hard physical work, hammering away at the silver, but I really enjoy it."
Arthur, who goes to college once a week, visits fairs and auctions for inspiration, as well as looking through books on pieces from the past. He also gives talks on silver at different clubs.
Arthur's tutor, Mark Veevers, said: "Arthur is a real inspiration to not only me, but also other students.
"He is enthusiastic and energetic and over the years has become very skilled in many aspects of silversmithing.
"He encourages other students to aspire to make great things and he has inspired me to continue working in precious metals as long as I am able to stand up on my own. He is a wonderful bloke and I am privileged to have known him for so long."
College principal Trevor Clay said: "Arthur really is an inspiration to us all. He's a shining example that you're never too old to learn and that a passion for learning doesn't fade over time."