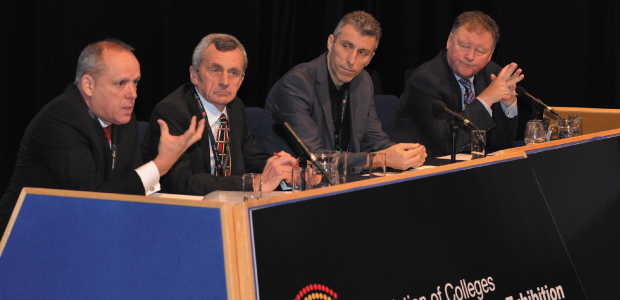 From left: Martin Doel, Peter Davies, David Hughes and Graham Hoyle on the panel at the Association of Colleges annual conference and exhibition 2012
Leaders of the new FE Guild proposals have told of their hopes for the new body, but said they were prepared for it to be rejected by the sector.
A consultation on the guild has launched and Association of Colleges (AoC) chief executive Martin Doel said he wouldn't predict the results.
"If the consultation comes back saying the sector doesn't want a guild, or an improvement agency, then we'll have to conclude that's the case and go back to government and say that's the case," he told a Q&A audience of delegates at the AoC conference in Birmingham.
"You can't have a consultation and predict what it will say."
The Q&A had been put on as an extra session on Wednesday, November 21, for delegates to find out how proposals for the guild — a single body to set professional standards and codes of behaviour as well as develop qualifications – were progressing.
An early stage consultation has been launched to feed into a summary of proposals due to be drawn up and sent out for further consultation in around two months. The plan is for the guild to be up-and-running from August.
"We've put on this extra session because the guild is so topical and important," said Mr Doel.
"We've got an extremely aggressive timescale to work towards, but I think it's achievable."
Further education Minister Mathew Hancock announced last month the AoC and the Association of Employment and Learning Providers (AELP) had won government approval to "take forward" the FE Guild proposals.
David Hughes, chief executive of the National Institute of Adult Continuing Education, has already been appointed independent chair of a steering group on the guild, and Peter Davies, former City Lit principal, was unveiled as its project team leader.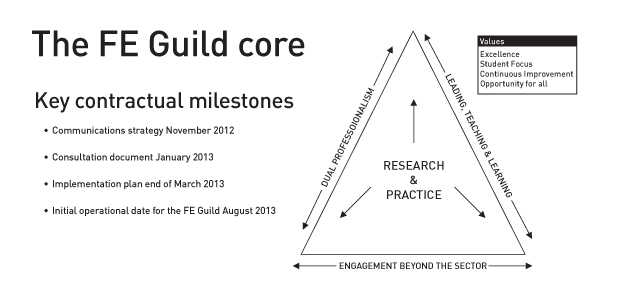 They both appeared on the Q&A panel, along with the AoC's Mr Doel and AELP chief executive Graham Hoyle.
Mr Hughes said there had already been talks with senior figures at the Learning and Skills Improvement Service (LSIS), which looks likely to close as its role is taken up by the guild.
"We've been very careful to include LSIS chief executive Rob Wye and chair Dame Ruth Silver in discussions," he said.
"It must be a very worrying time for LSIS staff and we need to be careful about quashing any myths and rumours about the guild.
"It's very clear to me we need to learn from what LSIS has done and to learn from it where the sector's pressure points are.
"We have an opportunity to own an organisation within the sector that does something quite modest, but really important that is about pulling the sector together and you need that."
Email Mr Davies on peter_davies@aoc.co.uk or feguild@aoc.co.uk to have your say on the guild.