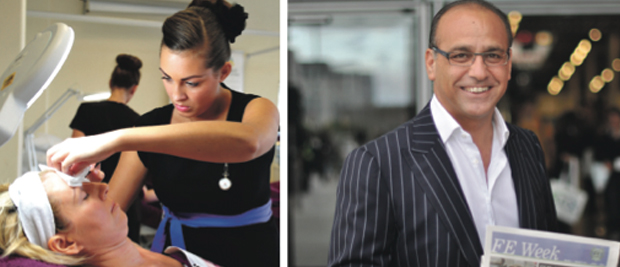 The LG Arena in Birmingham will host a glittering ceremony on Wednesday night to mark the start of the first Skills Show.
Hundreds of the UK's most talented young people will have spent the weekend cramming in a vital last bit of practice before their skills are put to the test in their bid to be crowned the best in the UK. They can now expect to be put through a series of gruelling tests that will stretch their capabilities over three days.
The show's expected 100,000 visitors to the NEC will be exposed to hundreds of interac- tive stands. These zones are part of The Skills Show's £1m "Have-a-Go" local programmes in which 20 FE colleges, training providers, local authorities and other education bodies have developed an array of interactive activities aimed at engaging more people in vocational education. The experiences offered will be closely linked to training, learning and job opportunities in current and future employ- ment markets.
The show will inspire a new generation to get the most from further education, skills and apprenticeships"
More than 50 "Have-a-Go" experiences will be dotted around the centre's 100,000sqm site – from aircraft engineering to visual merchan- dising to web design to welding. Here are a few examples of the hands-on activities you'll have a chance to try.
Burton and South Derbyshire College will host a range of activities and demonstrations including a solar car challenge organised by engineering students.
NEW College will showcase its links with Harley-Davidson with a new motorcycle on display. Visitors to the college's stand will also be able to find out about the inner work- ings of cars and motorcycles by taking part in activity sessions with interactive engine displays.
Dudley College will allow visitors to have a go at car body painting – on Thursday a car will be painted from head to toe in Skills Show branding. Meanwhile, the college's sports department will mirror the sporting challenges of the popular ITV programme, The Cube.
Up-to-the-minute careers advice will be available from organisations such as City & Guilds, the premier sponsors of the show, and the many other providers who will be there.
And showcase sessions will include demon- strations on theatrical make-up, circus skills, hair sculpture and food presentations – and a yo-yo expert and national competitor, 11-year-old David Braden Holmes.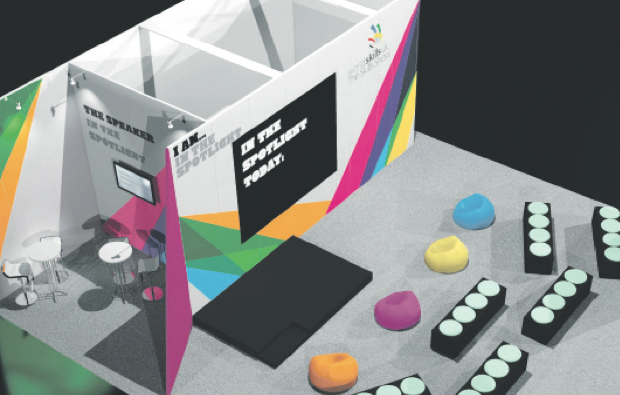 An artist's impression of the Skills Show's "I am in the spotlight" exhibition zone 
Many high profile visitors are also expected. Last year Prime Minister David Cameron and London Mayor Boris Johnson dropped in to the WorldSkills London competition.
Last week the Skills Show announced Theo Paphitis, star of BBC Two's Dragons' Den and one of the UK's most high profile shopkeepers, as its first patron. His appoint- ment followed his visit to WorldSkills London last year.
He said: "Skills are of vital importance to economic growth in the UK. The show will inspire a new generation to get the most from further education, skills and apprenticeships. The event is free and open to students of all ages, and is a must for anyone thinking about their future career." Mr Paphitis will be at the show's opening ceremony and competition.
Other famous faces expected to attend in- clude British hockey Olympic bronze medal- list, Sally Walton; Nick Holzherr, star of BBC
TV's The Apprentice, and founder of food website, Whisk; and Alan Bird, former execu- tive chef of London's famous Ivy restaurant. All will give real-life practical insights and advice into the world of work and skills.
Try new skills and receive the latest careers advice"
The Skills Show will also have a series of fundraising activities for BBC's Children in Need, and special visits from the charity's mascot, Pudsey Bear. Mr Paphitis is also ambassador for this year's Pounds for Pudsey campaign, which encourages students to use entrepreneurial skills to raise money for the appeal. Every penny raised by Skills Show students will go straight to the charity.
Ross Maloney, chief executive of The Skills Show, said: "We want thousands of young people, parents, guardians, educators and employers to visit the show and be inspired by the highly skilled apprentices and young people in action, as well as try new skills for themselves and receive the latest careers advice that will help them to make informed choices about the future."
The Skills Show is free and will bring to life the best of the UK's colleges, apprenticeship and training providers with live performanc- es, interactive demonstrations and exhibi- tions by groups of students. Register now at: www.theskillsshow.com
FE Week will be reporting all of the action from the show. Look out for exclusive cover- age from our Twitter account (@feweek), the FE week website, the next edition of FE Week and our souvenir supplement with all the results, sponsored by City and Guilds.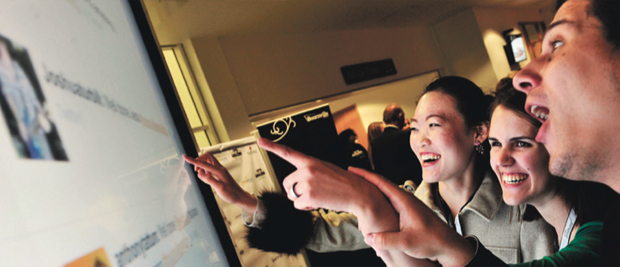 Students from Bourneville College testing out the College's iPhone application have-a-go that will be at The Skills Show. 
Q&A with Ross Maloney, Skills Show chief
We are only a few days away from the larg- est UK Skills Show. How are things shaping up and what can we expect to see?
The past year seems to have flown by, it only seems like yesterday that we were finalising plans for the WorldSkills London competition. I am so impressed by what we have achieved in such a little time. We had more than four years to organise WorldSkills London 2011; we've had less than a year to organise the Skills Show. It's been tough and there have been many challenges, but the show is going to be spectacular.
In the end it has all come together rather nicely. The support we have received from the sector has been overwhelming and I want to thank everyone involved for their support.
In terms of what we can hope to see, well, where do I begin. Obviously there is the op- portunity to watch the competitions in which hundreds of the most skilled and talented students will vie to be named best in the UK. The atmosphere will be tense, but it's great to have the opportunity to see these young people showcase their skills. The breadth of the curriculum covered is huge.
A key aim for us is to ensure the show is an experience for everyone who attends. We have made it a rule that anyone exhibiting must have an interactive stand. So you won't be seeing lots of stands with bits of paper arranged neatly. They will allow you to have a go at a particular skill.
Who'll be there over the three days?
For college principals and managers, it will provide an opportunity to meet employers and discuss opportunities for learners. For students it's an opportunity to see showcased the many vocational oppor- tunities that are out there – and hopefully provide lots of inspiration. Employers will have the chance to meet thousands of poten- tial recruits and to meet providers. We also anticipate thousands of family and friends, particularly on the Saturday.
The show is a massive undertaking. What can we expect over the coming years?
We are only in Year 1, so you can expect to see even more next year. We'll conduct a postmortem to fix any problems and improve things. So the show can, and will, get bigger and better. We are committed to running the Skills Show for the next three years. Ultimately it is intended that it will become sector owned and led – something that I believe is very important.