Strong, effective leadership is one of the key features of success, suggests Ofsted's How Colleges Improve report.
Winning colleges were seen to share characteristics of strong governance and management — as well as a clear vision and direction.
The report, commissioned by the Learning and Skills Improvement Service (LSIS) and Ofsted, highlighted how colleges built on best practice to ensure that the education and training they provided was at least good or outstanding.
Meanwhile, unrealistic self-assessments with little or no critical insight, and unexpected job cuts showed up time and again among poorly performing colleges.
The 43-page report  also warned colleges about the dangers of paying too much attention to building projects and mergers.
Ofsted's national director for learning and skills, Matthew Coffey, said: "Successful colleges always had strong leadership and management and the importance of this cannot be underestimated.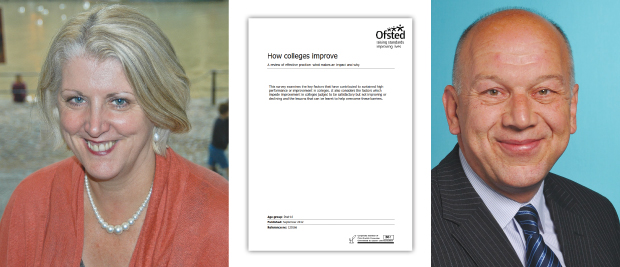 Lynne Sedgmore, 157 Group, Ofsted's report, available on www.ofsted.gov.uk, Stephan Jungnitz, ASCL
"All the elements of this report are inextricably linked to the actions and behaviours of leaders and managers, and the example they set.
"In outstanding and improving colleges staff were more willing to accept change and could easily describe what their college stood for.
"As a result leadership teams were better placed to act decisively to tackle underperformance and secure improvement."
Good and outstanding colleges were not afraid of self-assessment — even if it was self-critical — as they understood it was integral to both their and the college's improvement.
While there was no single explanation as to why colleges underperformed there were often many interrelated reasons and common features.
Often, there was complacency, and lack of ambition, direction and vision from senior staff. This was  coupled with a defensive inward-looking approach, where colleges were slow to accept change or act when data showed decline.
Weaker colleges were often made up of a higher proportion of temporary staff who were not properly managed either due to weak lines of accountability or weak performance management processes.
LSIS chief executive Rob Wye said: "This report confirmed the importance of outstanding leadership and management, underpinned by informed governance, cannot be underestimated.
"It is also clear that robust and honest self-review and reflection is a vital ingredient of any provider's improvement journey.
"The evidence in this report confirms what many will have thought for a long time — that the best colleges are those where the teaching, learning and assessment delivers excellent results that match the needs of learners, employers and the local community.
"LSIS commissioned this report to ensure that we all gained a thorough understanding of how colleges improve.
"LSIS is focused on improvement across the sector and there is much for other providers, as well as colleges, to consider and learn from this report."
He added: "It was put out as a stimulus for debate at college level in order to encourage principals, senior teams and governing bodies to think about how to match what the best colleges are doing, with a very good number of case studies within that.
"It has prompted that debate. It hasn't prompted a national debate and most of what it said was a reinforcement of what Ofsted has said before.
"But it's a useful contribution — it will underpin what will go into chief inspectors' reports in terms of what's good and what's not so good and where the focus need to be for improvement."
The report was welcomed within the FE sector. Association of Colleges director of education policy Joy Mercer said: "Ofsted did two reports around 2009 on how colleges improve and how colleges fail, so we were really pleased it devoted resources to returning to these issues.
"What they produced didn't really contain any surprises and predictably what was of most interest were the key features of outstanding colleges. And what is essential is that everybody can be moved into that place.
"The sort of things that repeat themselves were around leadership and management with the need for determination and drive, plus the ability to affect change.
"Governors are key too. They need the right information. Where there were failings, governors didn't know what questions to ask — perhaps they were too close to the management?"
She added: "The reaction to the report has been positive — it's been good to have good practice underlined, but what colleges do say is 'so what is the next stage?'
"We now know what Ofsted thinks, so how can we commit resources, how can government commit resources, to bringing everybody up to the standard of the best. It's a call to action."
Further issues highlighted in the report, which was released on September 27, were inconsistent tracking of learner progress, financial instability and defensive, inward-looking colleges being slow to accept change or act when data showed decline.
This report confirmed the importance of outstanding leadership and management"
Association of School and College Leaders spokesperson Stephan Jungnitz said: "I'm pleased the report recognised the pivotal role of college leaders in driving forward institutional success, as well as the complex and demanding range of areas they have to deal with, from buildings and finance to teaching and learning.
"As we well know, each college is unique and the road to success will be different for each — there is no magic formula. Having said that, the insights in the report will be useful to college leaders, and for many will reinforce what they instinctively already know about improving their institutions."
Lynne Sedgmore, executive director at the 157 Group, said: "Ofsted's report has to be a useful tool for the sector.
"The 157 Group welcomes the focus that it puts on leadership and management and on placing teaching and learning at the very heart of what every college is about.
"Teaching and learning is a key priority area for us and for our members and it is good to see its importance re-emphasised.
"Robust and meaningful self-assessment is something we in the 157 Group spend a lot of time supporting members and others to achieve — we have a number of peer support networks working in this area, for example. Ofsted's report reaffirms how vital this is."
Visit www.ofsted.gov.uk/resources/how-colleges-improve to download a copy of the report.