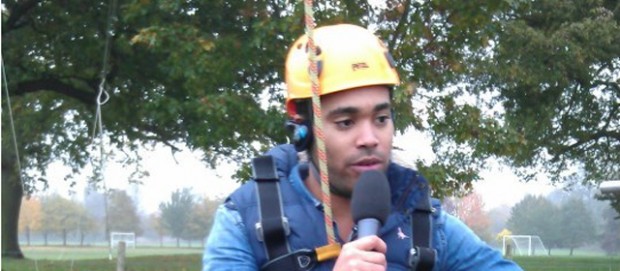 Singer Danyl Johnson (left) was put through his paces by students when he recorded a live BBC broadcast at a south-eastern college.
No obstacle stood in the way of The X Factor 2009 contestant and star of ITV's Benidorm as he presented a live show while completing outdoor pursuits at Berkshire College, including launching himself off a 10 metre pole to grab hold of a flying trapeze.
The public services students also taught him bush craft techniques, such as starting a fire without matches.
Student Steph Reed said "It was great fun to be part of a live broadcast and we all enjoyed meeting Danyl."
Bruce Petty, outdoor activities manager, said: "Danyl was a brilliant sport taking part in archery, zipwire, bush craft and the 'leap of faith'. The weather was a bit dismal, but it was a great experience for everyone and the students enjoying showing off our wonderful facilities."