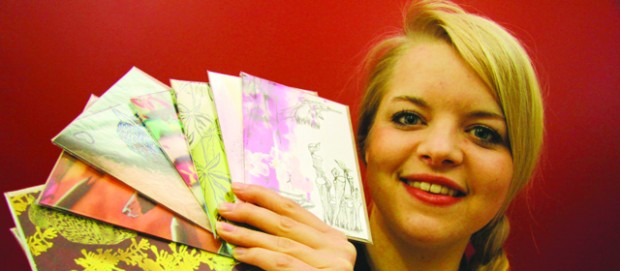 A glittering future is on the cards for a Hartlepool graduate as her designs go on sale.
Cushions, bags, cards and prints by Cleveland College of Art and Design graduate Lauren Wilson, are being sold at a gallery in Bridlington, a Middlesbrough market and her college's own shop.
"I was so proud seeing my work in a gallery, especially as some of it was put in the main window display. I still keep driving past just to see it," said the 23-year-old. "This is my first exhibition as a graduate and working in the gallery has been a great experience, really inspiring me to share and discuss my own work with other artists and meeting so many visitors with a love of art."
Lauren has also set up her own design company, Lauren Cherice Designs.
"I supply a few bespoke retail outlets at the moment that specialise in quality homemade gifts," she said.
"I always knew that I wanted to pursue a career in art and moving to Hartlepool to study at Cleveland College was a massive decision, but one of the best I've made."