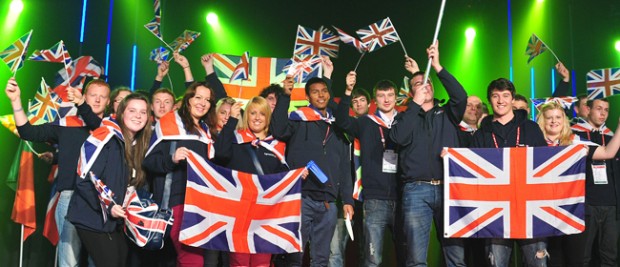 A glitzy opening ceremony, complete with an Olympics-style countdown clock, welcomed the UK's 22-strong team to the EuroSkills competition in Belgium.
The squad featured among more than 400 competitors, 316 experts and 39 team leaders from 23 European countries at last Wednesday night's event.
They were welcomed to the opening ceremony by members of Skills Belgium at Pepinster's Hall du Paire.
Competitors were invited to the stage in a parade of nations, with flag-waving and cheering echoing scenes from the summer's London 2012 Olympic Games, before a EuroSkills clock marked the official opening of the third biennial competition which was held over three days in Spa.
Nineteen-year-old Andre Rhone from Middlesex, who works at London's Royal Garden Hotel, is a Squad UK cooking competitor.
The ceremony was a fantastic spectacle. It was truly heart-warming to be able to cheer on Squad UK"
"The atmosphere was electric," he said. "Getting up on stage with all my team mates and being cheered on by our supporters was an amazing experience, one that I'll never forget.
"I hope that by competing at EuroSkills I make my family and country proud and share my experience with others back home, showing how taking part in competitions can improve your skills and set you apart from competition for jobs or promotions."
He added: "I want everyone to get behind Squad UK — just like they did with Team GB at the Olympics."
The audience at the opening ceremony was also treated to a series of live performances, including a group dance ensemble, an urban Stomp-style percussion set and a daring  performance from a world champion trick cyclist.
Jaine Bolton, chief operating officer at the National Apprenticeship Service and official UK delegate to EuroSkills, said: "The ceremony was a fantastic spectacle. It was truly heart-warming to be able to cheer on Squad UK and to witness and share the huge sense of pride and excitement felt by all competitors, training managers, experts, team leaders, performance coaches and supporters.
"This will be the first experience for most of Squad UK of competing against their skill counterparts from different countries on an international stage.
"EuroSkills is an important part of their training and development ahead of Team UK selection next year, as it will enable them to benchmark their skill levels against those from all over Europe and gain confidence in competing under pressure and in front of a live audience.
"I congratulate every member of Squad UK for getting this far and wish all of them the best of luck at the competition."
The event gives UK selectors an early chance to see competitors in action before whittling their WorldSkills squad, which includes most of the EuroSkills team, down from around 90.
The rest of the EuroSkills UK Squad includes Sarah Smithers, 20, Woking, Jenna Stephenson, 18, Liverpool, Hannah Clague, 21, Gloucester, Robert Broomsgrove, 20, Weymouth, Alastair Wilson, 21, Scotland, James Overend, 22, David Cargill, 18, both Northern Ireland, Gareth Humphries, 19, Heather Peach, 18, both Wigan, Jack Jameson, 25, Ipswich, Aaron Jamison, 18, Northern Ireland, and Jack Conway, 19, Essex, Philip Glasgow, 21, Northern Ireland, Gareth Jones, 19, Wales, Robert Johnson, Middlesbrough, Ken Wilson, Northern Ireland, both 19, Reece Johnston, 20, Leicester, Mark Woods, 21, Northern Ireland, Amy Leigh Wilson, 17, Blackpool, Georgina Briscoe, 18, Derby, and Wojciech Pastor, 22, Scotland.
Photo by Ellis O'Brien