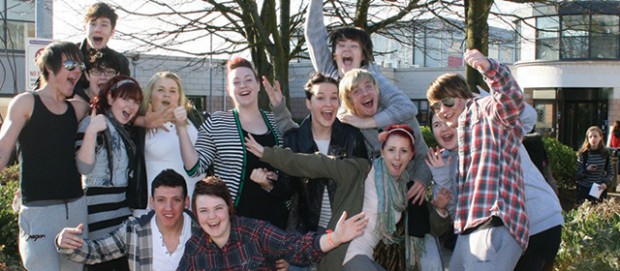 Caption: Sunderland College students are getting the benefits of joined up administration among members of the North East Shared Services Project.
Organisations coming together to develop services that can be shared, including teaching and learning as well as office systems, are a year into their projects.
The 157 Group and Association of Colleges (AoC) were each given a Shared Services Grant of £2.3m by the Skills Funding Agency (SFA) to set up ten projects.
Christine Doubleday, deputy executive director of the 157 Group, said: "Real and worthwhile savings can be made by sharing and collaboration. The college projects report a cumulative saving to date of £1.5million."
One of the AoC projects set up with the Shared Services Grant has designed a national skills qualification framework for adults who want to be entrepreneurs.
Nine partners came together to develop the curriculum, including Richmond Adult Community College, Tower Hamlets College, City of Bath College and Morley College.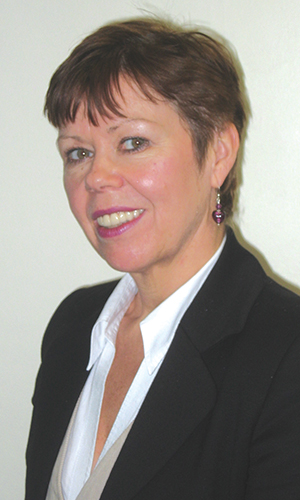 Christina Conroy, project director, said The Enterprise Agenda for Adults – its official title – has been so successful partly because it focuses on teaching and learning, one of the most expensive costs for the sector.
Since the qualification framework became available in September, 25 colleges and adult learning services have signed up to share the curriculum, giving them access to teaching materials and the online activities for students, which accounts for half of the course.
Ms Conroy, former principal of Richmond Adult Community College, said the project has saved the sector more than £1.5m in the past year.
Ms Doubleday said 157 Group's projects had been deliberately kept relatively small "to achieve deep implementation and learning".
At the beginning of next year the organisation will publish a technical guide on shared services and evaluative research from the University of Warwick on the projects that it carried out.
The SFA said the programmes have developed approaches that deliver "greater value for money".
The grant given was additional to the agency's core budget and there are currently no plans for further grants, but the SFA said that it is is continuing to support the AoC and 157 Group to pass on the lessons learned and is encouraging the uptake of ideas that have been developed.
A 157 Group project, now given the go ahead, is to develop a toolkit to explain how to overcome the major barriers to shared services, such as VAT and competition law. It will be available from early next year.
In November last year the Chancellor announced changes to VAT, stating that it would introduce a VAT exemption for services shared between VAT-exempt bodies.
Savings of more than £700,000 have been made on the North East Shared Services Pathfinder project, says project manager Kathy Bland.
Ms Bland, who has been seconded from her senior manager role at Sunderland College to work on the programme full-time, said the funding has made a massive difference: "We would never have got this far if we hadn't got the grant…releasing me from my senior management role in the college has been a big factor," she said.
"I've been able to fully concentrate on the issues and go up and down the country where the need has arisen to talk to different people and remove the barriers…It would have taken me 10 years otherwise."
Efficiency and Innovation Fund
Two years ago the Association of Colleges (AoC) was given a £4.6m Efficiency and Innovation Fund (EIF) by the Skills Funding Agency (SFA) to look at the feasibility of shared services. This is separate to the Shared Services Grant, which was given to the AoC a year ago.
Background research on shared services and 41 projects were set up using the funds. A report evaluating the work, which involved 230 organisations, has been published by the AoC. The key findings of The Many Faces of Collaboration report were: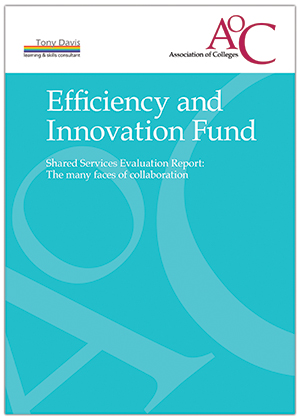 1."Of the EIF project's unique selling points, its ability to overcome previously entrenched isolationist views was perhaps its greatest: providers seeing the distinct benefits of sharing practice, ideas and issues rather than going it alone. Solutions were most often born out of a search for a third way, rather than simply taking on the perceived or accepted good practice of one particular partner – innovation in action."
2. "Of those projects that found shared services overly challenging, there was perhaps too much reliance on the creative thinking of external consultants rather than themselves, and a lack of clarity on what was to be achieved – being overwhelmed by keeping all options open for too long. Having too many partners was also a common issue, as was failing to realise that trust and friendship need to be built on low-consequence projects before embarking on inter-organisational change."
3. "What binds the most successful projects together was the clarity of their vision and their determination to overcome the challenges and barriers to success. They had a keen focus on the impact they intended to have, rather than on the list of jobs they had to do.
They engaged key stakeholders, such as front-line staff, in the change process, and in so doing developed not just trust, but new friendships between peers in the partner organisations."
AOC projects funded using the shared services grant
The Enterprise Agenda for Adults
Aims to create an Adult Enterprise curriculum, supported by an efficient delivery approach, which can be rolled-out nationwide.
Wessex Federation
Will examine the creation of a central shared service centre and implementation of a series of cost, efficiency and improvement initiatives across the five colleges.
Federation Development and Shared Services Programme
Will focus on developing an innovative organisational infrastructure for delivering technical/vocational further education, A-levels and higher education in Further Education Colleges
Federation of Strategic Services Project (FeSSP)
Will look at the development and implementation of a federation model for colleges in the delivery of non-core strategic services.
West Midlands SFC Exam Efficiency Consortium
Will establish a scalable group purchasing consortium to leverage discounted fees from major awarding body suppliers.
Project Daedalus
Seeks to establish an outsourced shared services platform available to all colleges operating in the UK.
157 Group projects funded using the shared services grant
North East Shared Services Project Limited (NESSP)
Wide ranging back office sharing with legally constituted delivery vehicle.
Services in Sussex and Surrey Colleges
Wide ranging back office sharing by consortium delivery.
Collaborative curriculum development and delivery
Developing and delivering shared curriculum using new technology.
One-Stop-Shop
Collaborative delivery of staff recruitment and student job placement.