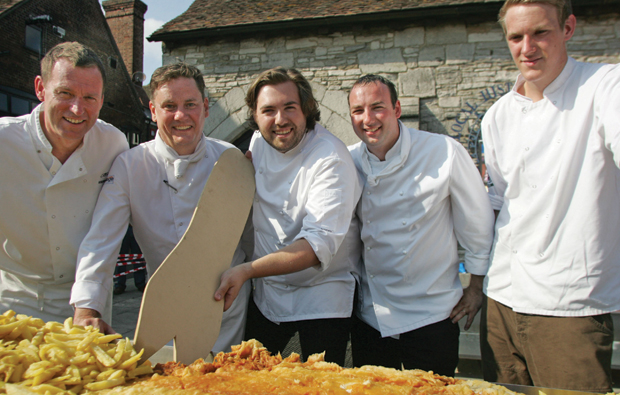 Not to be outdone by record-breaking athletes, Bournemouth and Poole College chefs have landed a world record of their own.
The chefs toiled over a deep fat fryer on Poole Quay to cook a gigantic halibut, plus 59kg of chips to smash the previous record portion of the classic English dish.
Barry Dawson, Andrew Brown, Paul Dayman, Dan Andre-Parsons and Gary Kilminster already had vast experience in making giant portions of fish and chips.
They featured last year in the Monster Munchies TV series with Matt Dawson when they competed with a local restaurant in making a giant portion of fish and chips by "glueing" together dozens of fish fillets.
At the time Gary Kilminster, a lecturer in the college's catering department, vowed to have a crack at beating the world record, which strictly rules that it can only be a single fish.
"We've been determined to beat this record now for so long. It feels great to finally make it," he said.
When the cooking was over the real fun began. There was enough to make 180 normal size portions all served up to eager people of Poole for £2 a head.
The money raised will go to a local hospice charity and the Royal National Lifeboat Institution.