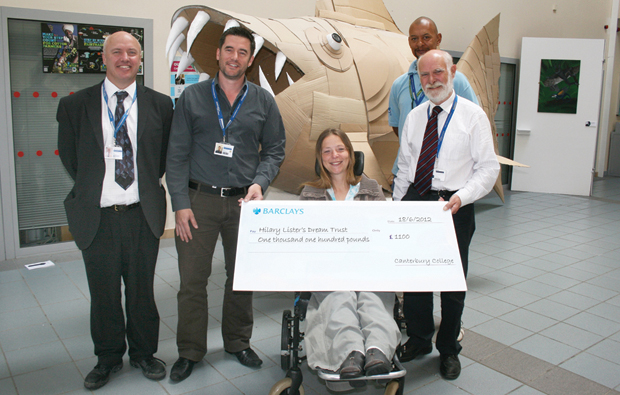 Cyclists from Canterbury College have raised £1,100 after a sponsored ride from London to Paris for Hilary's Dream Trust, the charity set up by disabled sailor Hilary Lister.
Staff members who cycled the 280 miles presented the record-breaking adventurer with a cheque at the College's New Dover Road campus.
Hilary, who broke records by becoming the first disabled woman to sail solo around Britain, has visited the College to talk to students. She thanked Canterbury's riders on behalf of her Trust, which gives disabled people the opportunity to sail.
She said: "The support from Canterbury College is fantastic.
"I came here last year and people from the College just picked up the idea and ran with it. I hoping I can do more work with them in the future."
Nine members of staff spent four days riding from London to Paris last summer, accompanied by a support driver.
The money they made was split between Hilary's Dream Trust and The Soldier's Charity, formerly known as the Army Benevolent Fund.
Martyn Rogers, the College Registry Manager, was one of the riders. He said: "We were all inspired by her visit and presentation to the College and agreed that this would be a worthwhile charity to support."