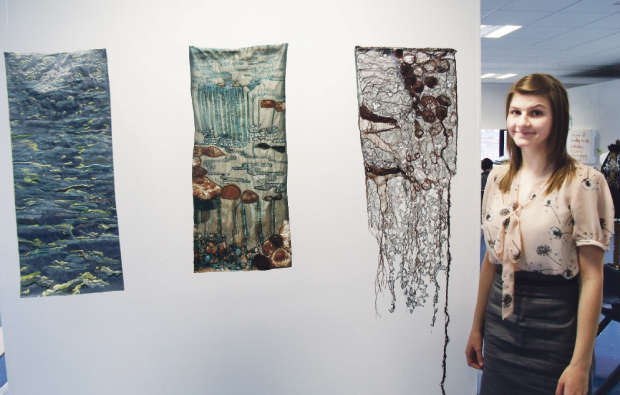 An innovative artwork depicting the power of water through textiles has earned a Derby College student a £400 bursary award from the Derby Decorative and Fine Arts Society.
Robyn Poundall, an art foundation diploma student, was one of five students based at The Roundhouse shortlisted for a bursary.
Their work, which ranged from fashion and decorative arts to illustration and fine art, was judged by members of the society.
The winner Robyn took her inspiration from research about the life giving and destructive qualities of water and created work using different textile techniques.
She said: "I wanted to show that nothing living can survive without water but equally it can be incredibly destructive – through tsunamis for example. The Bursary has made all the hard work worthwhile and will be extremely useful for materials and equipment for my textile design course at the University of Derby later this year."
Anita Pearson, a young arts representative, said the society was "particularly impressed with the skill and creativity" shown by Robyn who produced something "incredible."