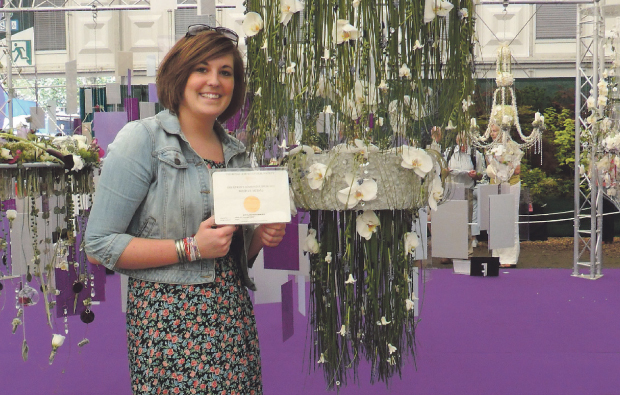 City of Bath College floristry student Hannah Lee has scooped a bronze medal at the Chelsea Flower Show.
Hannah took bronze in the Young Florist of the Year category, which puts her up there with the best young florists in the country.
The theme for the event was Diamond Jubilee and each competitor had to design a chandelier made from fresh flower materials. Hannah got her inspiration from researching the history of the chandeliers at Buckingham Palace.
Her winning design was a chandelier which included Phalaenopsis orchids, muscari and hyacinths pips.
Hannah, 19, who is studying Floristry Level 3, said: "It's a fantastic feeling – I can't believe it.
"To win one of the top awards at an event like Chelsea is a huge achievement and I'm so proud.
"I was going up against some really talented people so I wasn't that confident before the competition. Then when I found out I'd got a Bronze medal – and that I was only one mark away from the silver – I just couldn't believe it.
Louise Rawlings, Hannah's tutor, said: "This is a fantastic achievement by Hannah. She has done so well and deserves this success – we are all extremely proud of her."