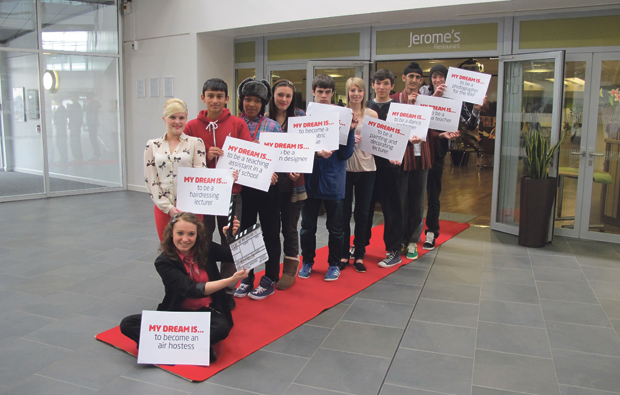 Students at Walsall College got the chance to walk the red carpet at a film premiere event held at the College's Jerome's Restaurant.
The students were attending a premiere of films made about pupils' dreams and aspirations for the future. The videos, which will be put online, will be advertised on local buses and bus shelters.
The video campaign is part of the College's 'Realise Your Dream' recruitment drive and has been developed to show prospective students how the College can help them fulfil their career aspirations. Using the Twitter hashtag, '#mydreamis', the College is also encouraging users to tweet their hopes for the future.
Aaron Watkinson, who is on a dance course and would like to become a professional dancer, is one of the students captured. He said: "I had a great day shooting the video and being a VIP at the premiere felt very special. I'm really happy with the final outcome and hopefully it will inspire others to achieve their dreams."
Principal and chief executive Jatinder Sharma said: "It is wonderful that our students are so eager to get involved with promoting the College to new students and is a reflection on the community spirit that exists here.