MP 'mends a hand' at Warwickshire College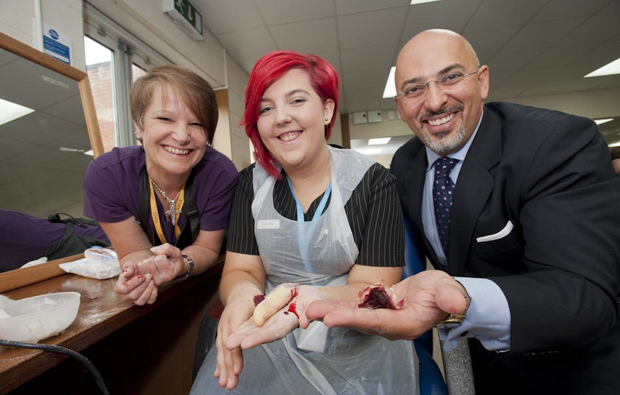 Stratford-upon-Avon MP, Nadhim Zahawi, visited Warwickshire College to try his hand at sports massage and theatrical make-up, as part of the college's 'have a go' campaign.
Mr Zahawi met first-year theatrical make-up students and watched attentively as tutor, Tracey Bridger, made a prosthetic amputated thumb using carpet glue, cotton wool, honey and red food colouring. He then had a go at making one himself, using unsuspecting student, Demi Bailey as a model.
Mr Zahawi then had a go at sports massage alongside students from the second-year sports development course. Mr Zahawi said: "I found my visit to Warwickshire College inspiring. The students and staff are clearly incredibly committed and made me feel very welcome. "I was also heartened to hear that the government's commitment to fund more apprenticeships and vocational training places is working, with more students and employers taking up opportunities."