Compassionate learners from West Nottinghamshire College have ensured the long-term survival of a local charity for homeless people that looked set for closure, writes Billy Camden.
When funds for a homeless charity in Mansfield were running low, trustees feared for its future — but thanks to money raised by kind-hearted students, its long-term survival has been secured.
The Hall Homeless Support Project, which provides food and shelter to rough sleepers, received the cash boost of £2,500 from young National Citizen Service (NCS) participants before the Christmas break.
NCS is a government-backed activity programme for 15 to 17-year-olds, and is run locally by West Nottinghamshire College.
Before the funds were handed over, trustees of the charity, which relies solely on donations, said they only had enough money to keep going for up to 18 months.
But the contribution ensured it could keep going for at least another four years.
Chair of trustees Tony Lee said: "This money is a lifeline. I can't thank the young people enough."
The Hall provides a cooked breakfast or evening meal, hot drinks, showering facilities, food parcels and clothing for users every Monday and Tuesday.
Up to 35 homeless people regularly attend the sessions, with a recent one in the run-up to Christmas bringing more than 50 through its doors.
Homeless man Stephen Clay is a regular visitor.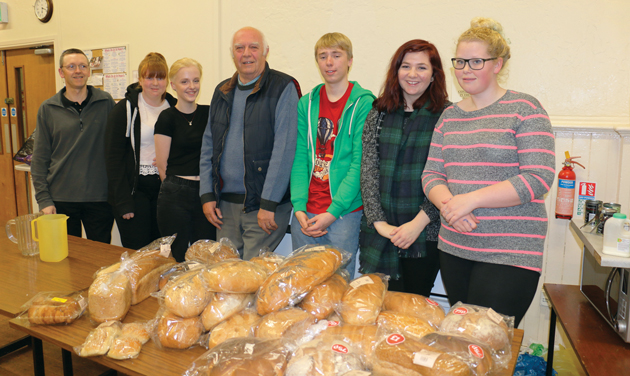 He said: "If it wasn't for the charity, I think I'd be dead. I wouldn't be getting fed or anything. I've got nobody.
"All the volunteers are so nice, I love each and every one of them to bits because they give up their time for us. They don't judge you – they just listen, and make sure you have something to eat. They're a god-send."
The money for the project was part of a record £11,000 raised by more than 380 participants of last summer's NCS programme on behalf of several charities including MIND, the Salvation Army and Nottinghamshire Deaf Children's Society.
Around 75 participants chose to raise money for The Hall following talks by Mr Lee on the work of the charity.
A-level learner Angus Townsley, aged 17, said: "As soon as we listened to Tony, we decided to back the charity. We are really sympathetic to homeless people. Some of our group had previously been homeless or knew people that were, so it was a big thing for them to try and help.
"It feels good to do something positive and know the money is making a real difference."
Fundraising activities included a sponsored triathlon, raffle, tombola, collection buckets and online donations, as well as collecting food and clothing.
Angus and fellow West Nottinghamshire College learners Kelsie Berryman, Katie Murfitt, Katie Armstrong and Kate Power, all 16, now regularly prepare and cook meals at The Hall.
Kelsie said: "I like the friendly atmosphere and the thought of helping other people. For me, it may only be for a couple of hours a week but for the clients, it's their actual lives. This gives them a warm place to come and have a meal, a hot drink and socialise knowing they're safe, instead of being outside in the cold."
Mr Lee said: "Angus, Kate, Kelsie and both the Katies are absolute stars — they really get stuck in. It's fantastic what they're doing. Nobody should knock young people."
Main pic: The Hall service-users (seated) with West Nottinghamshire College volunteers. Stood from left: Angus Townsley, Katie Murfitt, Kelsie Berryman, chair of trustees Tony Lee, and fellow volunteers Kate Power and Katie Armstrong