AoC Annual Conference 2016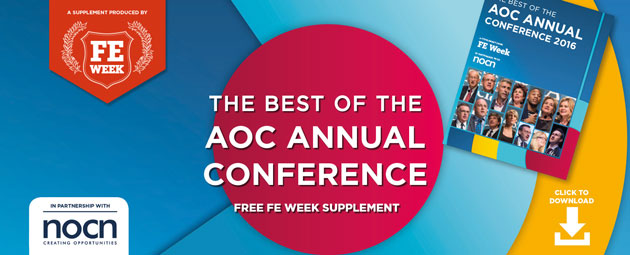 The 2016 Association of Colleges conference brought with it a feeling of renewed energy in the FE sector. While the 2015 event was characterised by a sense of dread ahead of the Budget— with a distinct lack of clarity on a number of key issues – this year's gathering at the ICC in Birmingham, from Tuesday November 15 to Thursday November 17, had a far more optimistic tone.
Click Here to download the supplement | produced in partnership with NOCN.
The AoC's new chief executive David Hughes has undoubtedly added to this feeling of revitalisation. He kicked off the conference on a positive note, and despite acknowledging the challenges brought by the recent "blizzard of changes", reassured delegates in his speech that he has "a lot of hope".
This was reflected through to the closing day – when education secretary Justine Greening and apprentices and skills minister Robert Halfon both stressed their commitment to the sector (see pages four and five).
FE commissioner Richard Atkins also reassured delegates, during his first major speech in the role, that "the sector is doing pretty well", as we have reported on pages six and seven. 
This supplement treats you to many other  tasty morsels from this year's conference, beginning on page three with a session that brought together AoC president Ian Ashman and TV star Ruby Wax, who gave their thoughts on the vital topic of mental health, an AoC theme for 2017.
Page four features a report on those who were triumphant in the AoC Student Photographer of the Year awards, sponsored by NOCN.
Lord Sainsbury's Review of Technical Education dominates pages 10 and 11, where we hear the DfE's plans for the new 'transition year' and responses from sector leaders. 
Pages 12 and 13 are dedicated to a workshop on maths teaching, with three experts talking through the possibility of compulsory maths to age 18.
Finally, pages 14 and 15 provides important information from a workshop on key funding issues. We explore the Education Funding Agency's announcement on the English and maths condition of funding, and the Skills Funding Agency's plans for levy paying employers.
Thanks for reading!