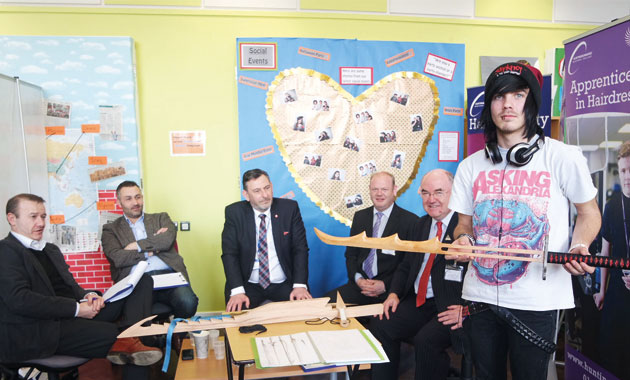 A cash prize of £1,000 was collected by a Huntingdonshire Regional College learner who carved his way to victory in a Dragons' Den-style competition.
Level one carpentry student Jade Cox won the event that includes a series of Lions' Den' challenges for college students to promote themselves and their ideas as well as receiving careers and product development advice from industry leaders.
Jade, aged 17, carved his own designs of swords featured in Anime, a Japanese form of animation.
He pitched his products to local employers at the event and received glowing feedback from the judging panel.
Brian Mussino, Jade's tutor, said: "Jade is exceptionally gifted – I've never seen a student of his age with such talent. When we rang him with the news that he had won, he was lost for words."
Main pic: Jade Cox with Lions' Den judges. From left: James Harper, of Twenty eight b, Simon Wheeler, of Provoke Me, Stuart Gibbons, of Le Mark, Michael Gardner, of the Skills Funding Agency, and Richard Wishart, of Delivery Management Ltd