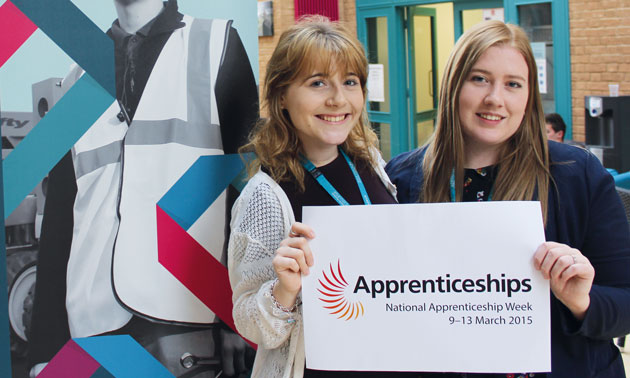 Staff at Milton Keynes College were among thousands of sector workers up and down the country to have set up events for National Apprenticeship Week (NAW), which launches today (March 9)
They created a specialist apprenticeship zone at college that will give learners an opportunity to explore a variety of industries available at all levels during an open event tomorrow.
And in the run up to the week, NAW has been boosted by a pledgeometer.
A total of 221 firms placed pledges to take on apprentices at the time of going to press.
Throughout the week, ministers and senior government officials will be out and about taking part in events, visiting businesses, and talking to apprentices.
To learn more about NAW events be sure to read the FE Week supplement free with this edition.
Main pic: from left, Business services administrator for apprenticeships Harmony Wood and 21-year-old apprentice marketing administrator Alixandra Fisher