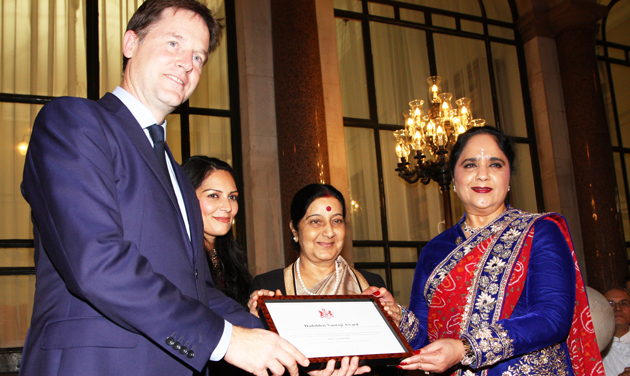 Principal of West Nottinghamshire College Group Dame Asha Khemka has been awarded by Deputy Prime Minister Nick Clegg for helping to improve FE links between Britain and India.
Dame Khemka was presented with the inaugural Dadabhai Naoroji Award for Education at the Foreign and Commonwealth Office, in London.
It recognised her efforts to boost links between the British and Indian FE sectors through her role as chair of the Association of Colleges (AoC) in India.
She said: "I am hugely privileged to receive this award and immensely grateful for the recognition this brings to the work of the AoC in India."
Presenting her award, Mr Clegg said Dame Khemka had "worked tirelessly to strengthen the bond between the UK and India".
Mr Naoroji lived from 1825 to 1917 and was the first Asian to sit as a British MP between 1892 and 1895.
Picture Caption: From left: Deputy Prime Minister Nick Clegg, Priti Patel, exchequer secretary to the Treasury and Britain's India Diaspora champion, Sushma Swaraj, Indian Minister of External Affairs, and Dame Asha Khemka, principal of West Nottinghamshire College Group