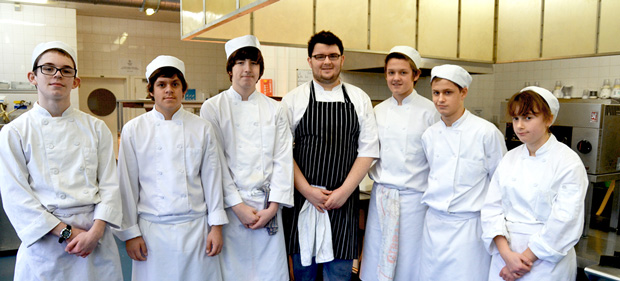 Former student and MasterChef semi-finalist Luke Bryan gave a cooking masterclass to current learners at Fareham College.
Mr Bryan passed an NVQ level three in hospitality and catering at the college in 2007 and has since been working with celebrity chef Paul Merrett in his restaurant The Victoria, in Richmond.
At 23, he was the youngest contestant to take part in the 2013 TV series of MasterChef: The Professionals and made it all the way to the semi-finals.
He returned to the college to show level one and two catering students how to make gourmet dishes including poached beef fillet in coconut milk, masala roast monkfish with red lentil dhal, and cumin roasted paneer cheese.
Mr Bryan also cooked a six-course meal for his former tutors.
He said: "Fareham College was a big part of my career. I wouldn't have had the confidence to apply for the show without the support I received from my lecturers."
Cap: Luke Bryan (centre) with basic catering level one students, from left, Callum Garrard , aged 16, Paige Delamare, Dan Miller, and Billy Mooney, all 15, Ryan Oxford, 16, and Casey Saunders, 15.