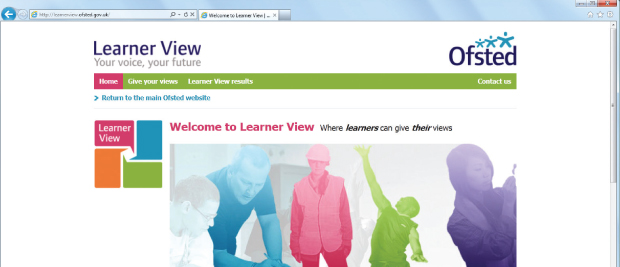 Providers are remaining on the fence about Ofted's Trip Advisor-style Learner View website.
The website, which cost £65,000 to develop and went live in time for Ofsted's 2012/13 inspections, draws together the opinions of students about their courses and comes up with provider ratings.
Students are faced with statements such as 'my course/programme meets my needs' and 'I receive the support I need to help me progress'. It then offers responses ranging from 'strongly agree' to 'strongly disagree'.
The public can see the results, which are updated after every ten responses.
And among the providers to have had student feedback since Learner View's launch were Lewisham College, which had around 80 largely positive responses by the end of October.
A spokesperson from Lewisham College, incorporating Southwark College, said: "At Lewisham College incorporating Southwark College we believe getting learners involved is a real positive, as long as it's regarded as a snapshot picture and used productively and appropriately.
"Understanding what learners think is a very good idea, and we are interested in how Learner View will be used, especially whether it is going to trigger inspections if there are complaints or concerns."
Bill Jones (right), executive director of planning and performance at Sheffield College, which had not received any student feedback on the website, said: "As the website has only recently been launched, it is too early to say how useful it is going to be. More of our students would need to complete the questionnaire.
"There are other questions that would also be useful to us, for example, asking students about their reasons for attending college and what their intended destination is, and it would be interesting to hear their views on teaching and learning methods."
However, an Ofted spokesperson said there were no "current plans" to alter the website.
"The Learner View website is working well and Ofsted has been pleased with its results, therefore there are no current plans to change any of its features," she said.
"So far, there have been 9,310 completed surveys, highlighting Ofsted is well on the way to reaching its 10,000 completed survey target by Christmas or in fact sooner.
"Currently, there are 424 providers with surveys completed and 87 with more than 10 completed surveys.
"It has been providing useful information for inspectors and providers. Ofsted is keen that learners continue to contribute their views in a variety of ways including Learner View."
Ofsted's national director for learning and skills, Matthew Coffey, said: "The National Union of Students and our learner panel quite liked the immediacy of Learner View — that what they think can be seen by people who can do something about it immediately.
"It gives an overview of what the student body is saying about their provider.
"But what is really important is that it doesn't replace the interaction inspectors have with individual learners on individual courses."