The Skills Show Supplement 2016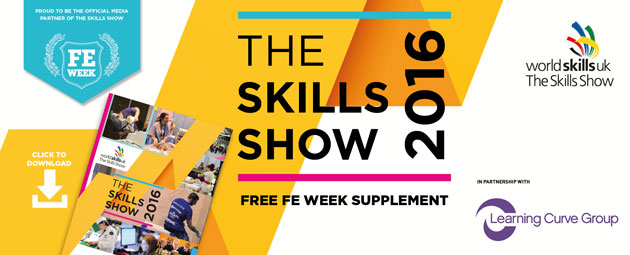 With more than 90,000 visitors descending on Birmingham's NEC over the course of three hectic days, it is fair to say the fifth annual Skills Show was the biggest yet.
An abundance of careers advice from leading employers such as Dyson and Jaguar Land Rover was on offer, as well as the chance to have a go at more than 50 different skills, and the opportunity to speak to past WorldSkills UK competitors. The finals of the national WorldSkills UK skills competitions were as ever at the heart of the show, leaving spectators in awe.
Click Here to download the supplement | produced in partnership with Learning Curve Group.
On page 3, Shane Mann, managing director of FE Week's publisher Lsect, sits down with WorldSkills UK chief executive Neil Bentley and its chair Carol Stott to discuss how this year compared to others.
Next, Shane joins me on tour to have a go at some of the different hands-on activities that were on offer (pictured below). You can check out what went down on pages 4 and 5 – we promise hilarious photos.
Those pages also feature an overview of what the Skills Show is, why schools and employers get involved, and a few words from Robert Halfon, who became the first minister in three years to attend the show.
Pages 6 and 7 then explore the inclusive skills competitions which were brought into the mainstream for the first time at this year's show. 
We then look at where we are on the road to WorldSkills Abu Dhabi in October 2017, and even WorldSkills Kazan in August 2019. Next stop, however, is Gothenburg, where EuroSkills 2016 will kick off in December. You can read more about Team UK's journey on page 10.
A celebration on Saturday night brought the show to a triumphant close. On page 11 we include reactions from some of the medal winners, and on pages 12 to 15 you can read the full listing of winners.
Click Here to download the supplement | produced in partnership with Learning Curve Group.